[Editors' note – this review was first published in 2014 and some information might need updating]
Hotels in Kensington London are plentiful but it might be hard to pick the right hotel for you during your stay in London. They all have great locations, being hotels near to the Natural History Museum, The V&A museum or the Science Museum but it can still be hard to choose. However the good news is that whatever hotel you go for, you are in a great part of London: South Kensington is known for its excellent shops as well as great restaurants and choice of top hotels.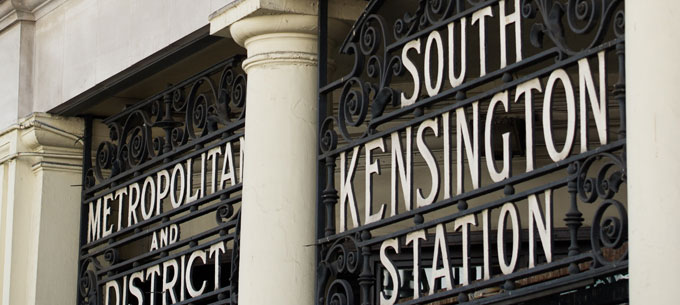 So when I spent a couple of nights in two hotels in South Kensington – MyChelsea and the Ampersand – I ended up spending my Sunday evening having a very pleasant time walking around the streets of South Kensington, Knightbridge and Chelsea, discovering all sorts of places I never knew existed, and wondering why I would never get inspired to do this kind of thing at home, even though it was precisely 10 minutes walk away.
And what I discover is that South Kensington, far from being the fairly dull district dominated by a tube station that I'd previously dismissed it as, is actually incredibly lively on a Sunday evening.
South Kensington's mix of tourists – lured by the nearby attractions and shopping hot spots and its handiness for Heathrow – and locals meant that it seemed as if there were more people around on a Sunday evening than during the week.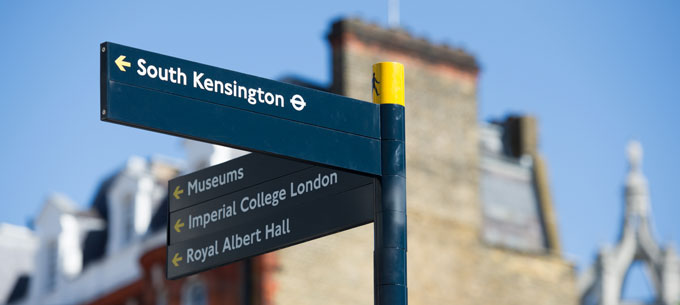 The bars were full and spilling out onto the streets, there was an impressive mix of restaurants, from Italian and Japanese to Spanish and pop-up fast food bars, there was a huge number of people, like me just enjoying wandering around in the barmy evening warmth, and even chains such as Pret a Manger were open until 11pm (on a Sunday?!) to make the most of all this activity.
My first hotel in Kensington to stay in was MyChelsea and I have to admit that I found it perfectly pleasant but rather lacking in terms of character or excitement.
Its website proclaimed it to be 'Where Sex and the City meets Brideshead Revisited' which is a pretty hard boast to live up to, and it certainly lacked the buzzy vibe swirling around the streets nearby. This could have been due to the fact that it was extremely quiet when I stayed, and its location tucked away down a backstreet and its particularly uninspiring frontage made you feel as if the party was happening somewhere else entirely.
However it does have its good points, namely its huge rooms which for the area is a big bonus. The reception was friendly, check-in was rapid and while the corridors do feel small and slightly claustrophobic, that dissipates when you reach your room.
My huge room had a four poster bed, a separate lounge area, the usual gazillion remote controls for the TV and a walk-in wardrobe where I discovered the tea-making facilities. The bathroom was smart (just a shower though), the bed was extremely comfortable and breakfast the next day in the Pellicano restaurant was absolutely fine, with a large buffet selection and freshly-made poached eggs and toast.
There's also a conservatory lounge area where people can work, relax or borrow DVDs from its wide choice which I thought was a nice touch – although it again was rather lacking in character. In fact MyChelsea hotel is a perfectly decent hotel – but there's something about it that I just  found it rather quiet and soulless, much more like a business hotel rather than the 'Sex and the City' vibe it was aiming for.
And it really does try for the sexy vibe on its website at least, as one of its various room deals on offer is the 'Beloved' package which is described thus: 'You and your partner can indulge in a positive and healthy exploration of sensuality in all its glorious diversity. Offering guests a sumptuous box of erotic delights that contains all that you'll need to for a sensory extravaganza.'
Said box is 'an sumptuous [sic] box from 210th including a classy and luxury vibrator, massage oil and pleasure balls, satin blindfolds, 25 saucy assignments – to surprise and delight each other.'
Somebody needs to duplicate all that pent-up sexiness to the actual hotel itself.
The nearby Ampersand hotel feels much more like a place you'd want to get sexy in. It's a five-star luxury hotel in Kensington so the location is spot on, just a stone's throw from the tube, so you feel right at the heart of the action.
The exterior is far more impressive too, a massive Victorian-seaside-hotel styled building with clean, clear lines and the theme is continued inside with the chic, cool appeals of its reception, the fun light-fitting which twirls high up in the stairwell, and its light and airy lounges where cookies are served in jars and people curl up on the stripy sofas to enjoy afternoon tea and the streaming through the windows.
My bedroom at this luxury Kensington hotel was much smaller than at MyChelsea but was full of little touches – a rubber duck in the immaculate bathroom for example – and had a great view of the street below without letting in any noise.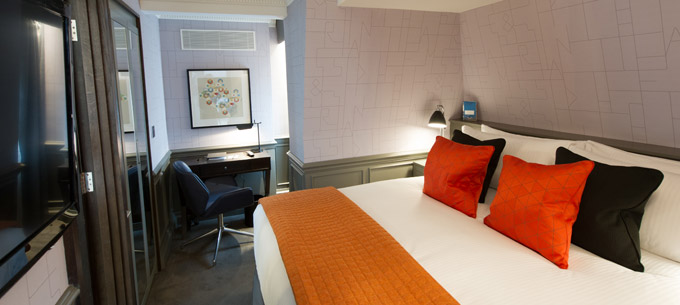 In fact the attention to detail was in evidence throughout the hotel, with quirky and interesting artworks displayed throughout, such as a flight of birds cut out of an A-Z map which was on our floor by the lifts or the reproduction of the actual ampersand '&' sign in many different styles around the building.
Downstairs was its restaurant Apero [see separate post] as well as a computer lobby, the gym and three individual rooms – the Library, the Games Room and the Wine Cellar which could be hired out for events, meetings and conferences – but which retained an air of individuality which set them apart from the typical dusty boardrooms.
Bookshelves were piled high with games such as Monopoly, there were glasses of sweets at each place and comfy chairs and colourful artworks to liven up tedious meetings.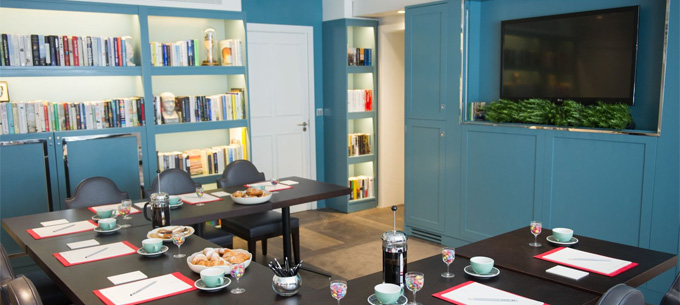 The Library – more light-hearted than its name would suggest
Surprisingly, given the different styles of the hotels, the two are very similar in price. Choosing the same dates, one in July and one in September, the cheapest room for one or two people without breakfast at MyChelsea costs around £169-£209 while at the Ampersand it was nearer the £158-£170 mark.
However the Ampersand becomes more expensive with the larger rooms and suites, which range from £320-£438 or more, while at MyHotel Chelsea it would be more like £229-£269. So, you pays your money and you takes your choice, as the saying goes. But one is definitely sexier than the other…and it's not the one which lays claim to that description.
The Ampersand
10 Harrington Road
London SW7 3ER
The Ampersand is a member of Small Luxury Hotels
www.slh.com
MyChelsea
35 Ixworth Place
London SW3 3QX