Arriving at The Pig near Bath
It is always nice to be greeted on arriving at a hotel by someone saying enthusiastically: 'You're just in time for lunch!' and even better when you are promptly whisked off to sit in the sun with a large G&T while you dither happily over a mouth-watering menu.
To really make that experience perfect though, you have to be in a place which takes food very seriously, but which isn't serious in the way it serves it: which makes The Pig near Bath such a perfect example of a friendly, foodie place.
The Pig hotel collection
The Pig hotels are rapidly becoming a phenomenon: people are starting to collect them, in the way that once you've been to one, you instantly want to go and bag the other ones too. Founded by Robin and Judy Hutson, the husband and wife team behind the very successful Hotel du Vin chain – Robin also previously worked at the lovely Chewton Glen, and also owns the acclaimed Lime Wood hotel in Hampshire – there are now seven Pigs and one more on its way.
---
To book directly with the individual hotels, go to The Pig Hotel
To read more reviews and check the latest prices click here to go to The Pig near Bath on TripAdvisor
---
There's the original Pig in Brockenhurst, the New Forest, opened in 2011; the Pig in the Wall (Southampton), the Pig on the Beach, in Studland, Dorset, and the Pig near Bath, which was where I was having my first Pig experience. There's also the a whole little of new Pig hotels: the Pig at Combe, near Honiton in Devon – and the group (which is co-owned by Jim Ratcliffe, the billionaire chief executive of Ineos chemical company) has spent £30 million on a further three Pigs: the Pig at Bridge Place, near Canterbury in Kent, the Pig at Harlyn bay in Cornwall and soon to open, the Pig in the South Downs, just outside Arundel in West Sussex.
The Pig near Bath is nine miles outside the spa town, in the 200-year old, Grade II-listed Hunstrete Hall. It is hard to write about the Pig without sounding too fulsome, but the Hutsons have succeeded into creating a lovely, relaxing, informal and cosy atmosphere which made you instantly want to move in for at least a month.
From the outside it resembles those houses featured in Jane Austen adaptations – which are supposed to show that someone has fallen on hard times but still have enough room for an extended family, visitors and all their servants – and on the inside it is all 'shabby-chic', with unvarnished floorboards, squashy sofas, roaring fires and cosy corners in which to while away the hours with a book or a glass of homemade blackberry gin.
Eating at the Pig near Bath
As it was a sunny day I had lunch outside, but there is also a light and airy conservatory (the Pig calls it an 'authentic Victorian greenhouse') so you can appreciate the beautiful grounds without getting frostbite. The menu was beautifully illustrated with a local map showing where the ingredients came from, and of course many of them came from the Pig's own kitchen garden just behind me. These gardens are a features of all the Pigs, with the company ethos being to grow as much as they can themselves, resulting in fresh, seasonal delights.
The Pig near Bath menu
There were two menus for lunch, with the shorter one offering bar snacks such as radishes and wild garlic mayo, or scratchings and apple sauce, and a range of flat-bread pizzas for £9, including home-smoked salmon with red onion and marscapone.
The larger '25-mile menu' was divided into various sections entitled 'Piggy bits', 'Starters and small plates', 'Literally picked this morning', and 'The Mendips', along with sides and desserts.
I couldn't decide what to start with so rather greedily chose both the smoked salmon and the alarming-sounding 'The Pig's Black Pudding Balls' which were delicious – very piggy but still light and tasty –  then the Brixham crab and runner bean risotto with garden flowers which was possibly the tastiest risotto I have ever had.
Bedrooms at the Pig near Bath
To spend the afternoon in the sun eating, drinking and doing very little else was a real treat and it was a good few hours later before I actually relinquished my spot in the sun to find my bedroom.
I was in the one of the outdoor 'Hideaways', just next to the main house, which was like having my very own cottage for the night. It had a four-poster bed, wood-burning stove, free-standing bath and little terrace overlooking the gardens, beyond which was a herd of dappled deer looking as if they'd just arrived from a Disney set.
For people who want to do more than just sit around dreaming of living somewhere like here forever, there are various activities on offer: a massage in a former potting shed, a game of billiards, working your way through the well-stocked bar… and there are also wellies to borrow when nothing but a plodge in the countryside will do.
However I was content to sit and read on my sunny terrace for a while before having a snooze – I was really working hard that day – and then emerged to have a quick tour of the property with the hotel manager Tom.
We'd seen the kitchen gardens, the smokehouse, the greenhouses and the wild flower meadow when we discovered that due to an unlatched gate, the chickens were enjoying some unexpected freedom. Thankfully Robin Hutson himself turned up at this point so while Tom rounded up the feathered escapees Robin and I enjoyed a pre-dinner G&T in the garden before being joined for dinner by Judy and their son Ollie who runs the all-important garden.
The evening meal was just as wonderful as lunch, with crispy pig's ears (well, when in Rome…) followed by oven-roasted rump of Withywood farm lamb and then an epic caramelised rice pudding with 'heavenly hedgerow' jam. I've no idea what 'heavenly hedgerow' is but the adjective was spot on – it was impossible not to scoff the lot and just vow not to eat for a month or so.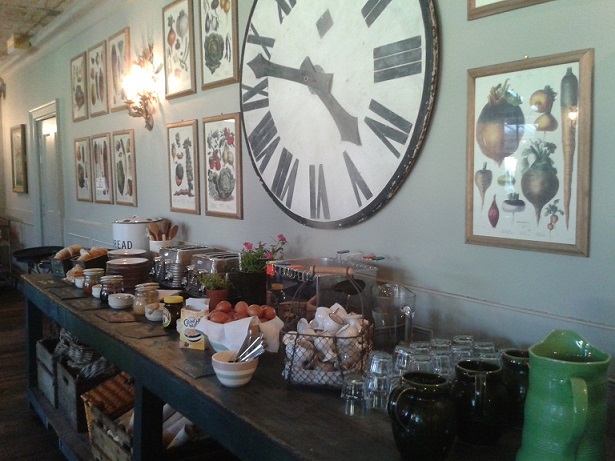 Breakfast at the Pig near Bath
Obviously in the morning such resolutions went out of the window – the Victorian greenhouse was sumptously stocked with everything you could want to start the day and I had coffee and scrambled eggs in the sunshine before very reluctantly heading back to London. Judging by the reviews and the number of people happy to make the trip from Bath to eat at the Pig, plus those overnight guests like myself who came from further afield, the Hutsons have once again hit upon a winning formula.
The Pig near Bath, Pensford, Nr Bath, BS39 4NS
Snug rooms from £170 and Comfy rooms from £195.  
To book directly with the individual hotels, go to The Pig Hotel
To read more reviews and check the latest prices click here to go to the Pig near Bath on TripAdvisor
Editor's note: This review first appeared in January 2016 but has been totally revised and updated 
If you liked this review of The Pig near Bath, you'll love these reviews of great hotels near Bath:
Set in 500 acres of Wiltshire countryside a mile-long driveway, it's easy to see why Lucknam Park claims to have been social distancing for 300 years. This gorgeous 17th-century Palladian luxury five-star hotel with a Michelin-starred restaurant and luxury spa has been a fixture on Britain's hotel scene for years but still feels like a well-kept secret, with its own cookery school, arboretum and luxurious rooms in a classic country house style.
Read my full review of Lucknam Park here
The Vineyard at Newbury
With hundreds of world-class wines to choose from, an epic 14-wine 'Judgement of Paris' tasting menu and a spa to recover in afterwards, The Vineyard at Newbury is the perfect hotel for wine-lovers (and their other halves).