If you're going to spend the night in a castle, then it's appropriate to look the part, which is why it felt very fitting arriving at the luxury hotel Bovey Castle in the heart of Dartmoor in a £150,000 Aston Martin DB11.
A trio of valets clad in tweed plus-fours sprang into action to help us unload our luggage and admire the car (and point out that we seemed to have acquired a fair amount of the Devonshire countryside on the DB11, thanks to the incredibly narrow lanes we took to get there). However there wasn't long to spend drooling over the car. Quentin, our archery instructor, had arrived for our lesson. See what living in a castle does to you?
Five minutes later we had walked through some of Bovey Castle's rolling acres and swapped our very modern motor for a rather more traditional bow and arrow.  The patient and friendly Quentin took us through the basics of how to shoot safely and accurately, and now it was up to us to put it into practice.
I managed to hit the target more often than not and even fluked a shot to the gold centre of the target. Flushed with success, I moved onto rifle shooting. This was much harder, with the tin cans and hanging yellow bath ducks proving much more elusive targets, until my friend Lisa suddenly 'got it' and was firing away like a modern Annie Oakley.
I left her to it while I made my way to our room, and when she returned half an hour later she was so pumped from her pinpoint accuracy with a lethal weapon that she barely noticed what a sumptuous suite we'd been given for the night: number 50, which was so vast we could probably have continued our target practice indoors.
There was a huge lounge with a walk-in closet, a vast bedroom, an equally large bath with freestanding tub and the whole suite was imbued with the air of luxury that only plush furnishings, epic views, a decanter of sloe gin and an ice bucket of Champagne can give. I could have happily spent the whole stay in our room.
---
My expectations of Bovey Castle (pronounced Buvvey) had been high from the start – it's the word 'castle' which does it – but I was pleasantly surprised to find during our stay that my expectations were met and then surpassed.  The hotel itself was as vast and imposing as I thought it might be, our huge, luxurious room was even nicer than I though it would be, but what I hadn't expected was the sheer friendliness of the place.
Some hotels as large as Bovey Castle (it has 60 bedrooms and suites, 22 self-contained cottages rooms and is set in 275 acres of rolling Dartmoor countryside) can often be rather impersonal, while historic country house hotels run the risk of being formidable, so Bovey Castle could easily be both soulless and intimidating.
The key fob to the Aston Martin had disappeared into the seat mechanism of the car during the journey there, and the valets guys kindly spent ages trying to fish it out. The DB11 was also covered in Devonshire mud thanks to the rather terrifyingly tiny country lanes we had been directed down to get to Bovey Castle (thanks, sat-nav) but no problem, the car was whisked away for a jet-wash.
When I went for a pre-breakfast walk the following morning (borrowing a pair of Bovey Castle wellies by the main door) one of the team was still watering the greens on the 18-hole Championship golf course even though it was pouring with rain, and even kindly pointed me in the direction of the footpath to the nearest pub (it was a little early in the day) – and basically you felt as if everyone was genuinely pleased you'd come to visit.
While the weather was typically wintery during our stay (Bovey Castle in summertime would be an amazing sight) which ruled out tennis, croquet and golf for all but the most hardy, there was still a schedule of both free and chargeable activities, such as falconry displays, 'meet the chickens' for the children and gin and cider-making for the grown-ups.
There is also ample room to relax  indoors at Bovey Castle. As well as the bar and two restaurants there is a spa in the main hotel building with a thin-but-long swimming pool, sauna, steam room and jacuzzi, and there are spacious and grand rooms on the ground floor for afternoon tea, a cocktail or two or just a place to curl up with the Sunday papers or a good book (one room has a parrot in, which was a little incongruous).
The evening we stayed there was a golf club dinner in the more formal Great Western restaurant (Bovey Castle first opened as a hotel and golf resort in 1930 by Great Western Railways) so we dined at the less formal Smith's Brasserie, named after WH Smith for whom the house was originally built). The service was snappy, the food was good and the atmosphere was nice and informal (although we could have done without the massive TV screen showing highlights of Bovey Castle and its sister hotels which drew the eyes as TVs always do).
There was a wide-ranging menu from 'nibbles and snacks' to starters, meats and mains, salads, classics and 'from the grill'; I started with an prawn and avocado salad and followed it up with pan-fried sea bream and pak choi with saffron rissotto (and couldn't resist the tonka bean creme brulee afterwards)
Breakfast the next morning was in the more formal Great Western restaurant but was actually pleasantly informal, with families helping themselves to the cooked buffet (cooked to order options were also available) and we spent most of it chatting to our car-obsessed waiter Florian who was from Italy and in love with our Aston Martin.
After such a leisurely start to the day there was just time for a quick photo shoot with Osian and then back onto those Devonshire roads – with a much cleaner Aston Martin than we'd arrived in.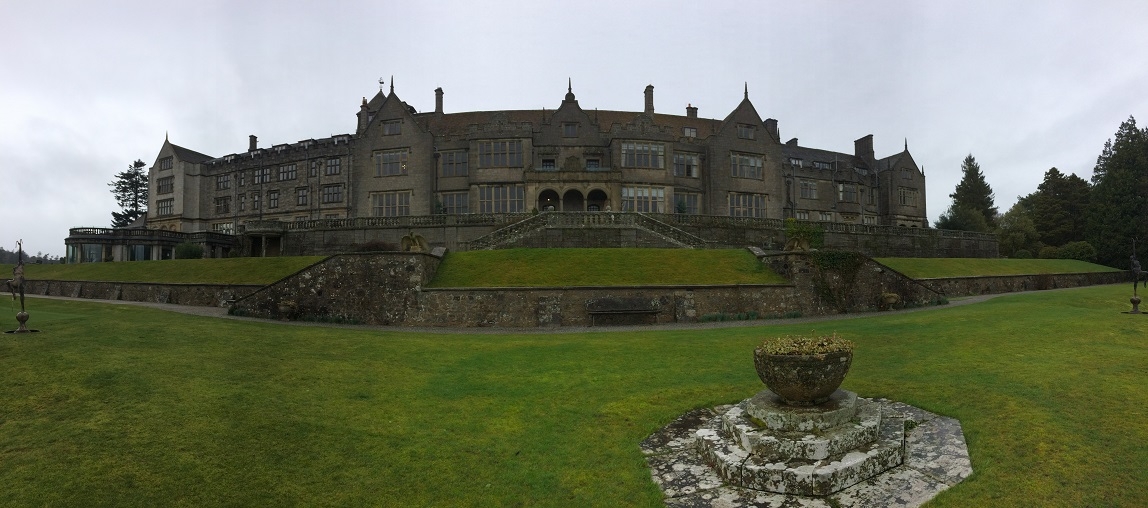 Hotel information and to book Bovey Castle
Bovey Castle, North Bovey, Newton Abbot TQ13 8RE (don't set your sat-nav for North Bovey as while it's a sweet village, it's not where Bovey Castle is).
Tel: 01647 445007

Bovey Castle is part of the Eden Hotel Collection, a privately-owned portfolio of nine properties in the UK. Links to reviews below.
Situated in the spectacular Dartmoor National Park, the luxurious hotel has 60 bedrooms, 22 lodges nestled in the grounds and an impressive Elan Spa. Stay overnight from £189 per room (two sharing; room only), including access to the Elan Spa. 
Check availability and book Bovey Castle by clicking here
Compare the latest prices and read more reviews of Bovey Castle on Tripadvisor by clicking here
A charming luxury stay in Brockencote Hall hotel Worcestershire
Greenway hotel and spa, Cheltenham: a luxury hotel with the fizz factor